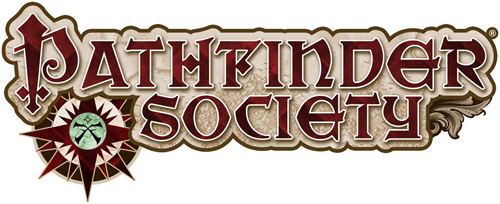 Sundays 1pm @Matt's Cavalcade
Sundays 6pm @Matt's Cavalcade
About Pathfinder
The Pathfinder Roleplaying Game is an evolution of the 3.5 rules set of the world's oldest fantasy roleplaying game, designed using the feedback of tens of thousands of gamers just like you.


The Pathfinder Roleplaying Game has been designed with compatibility with previous editions in mind, so you'll be able to use your existing library of 3.5 products with minimal effort. In fact, the Pathfinder RPG is designed to smooth over a number of the rough spots in the 3.5 rules set, making several existing books even easier to use. On the other hand, the Pathfinder Roleplaying Game contains numerous additional options and exciting new takes on classic character classes and races, infusing the game with a level of excitement that will carry it years into the future.



About Pathfinder Society
Pathfinder Society Organized Play is a worldwide fantasy roleplaying campaign that puts YOU in the role of an agent of the Pathfinder Society, a legendary league of explorers, archaeologists, and adventurers dedicated to discovering and chronicling the greatest mysteries and wonders of an ancient world beset by magic and evil.




In Pathfinder Society Organized Play, you play a member of the Pathfinder Society, seeking fortune and glory all over the face of Golarion. At the same time, your character works for one of the competing factions, all with their own motivations and secret agendas.




Play is organized into Seasons, throughout which the actions and achievements of you and your fellow Pathfinders create an ongoing storyline. Each season consists of at least 28 Pathfinder Society scenarios (short, 4-hour adventures) set in a variety of exotic locations across Golarion.




New players are encouraged, and they can be given help and advice on building their first character. New players should try to arrive early, but do not require anything else to play.


For more information on Society, check out their Official Website.


We also host non-Society games
If you're interested in joining a Role Playing group, or would like help organizing a Role Playing group of your own, please e-mail us at gaming@ilovespidey.com
Matt's Cavalcade
2075 NW Buchanan Ave.

Corvallis, OR 97330

541-752-6757
MattCave
425 Jackson St. SE

Albany, OR 97322

541-704-0550
Toll Free: 1-800-AT-MATTS